Ornithoptera for collectors - Birdwings


You are a supplier and you want to advertise, contact us : collectorsecret(at)ymail.com
New Ornithoptera listed everyday, add this page to your favorites.
Legal notice : check that the supplier provides CITES permits with the Ornithoptera.
ORNITHOPTERA AND TROIDES FOR COLLECTORS:

BIRDWINGS AVAILABLE IN GERMANY:

ORNITHOPTERA FROM THE UK:

ORNITHOPTERA FROM FRANCE:

ORNITHOPTERA BIRDWING BUTTERFLIES COLLECTION :
Ornithoptera are the largest butterflies in the world. These so-called birdwings live in Oceania and Indonesia. They were discovered in the 19th century by intrepid entomologists like AS Meek or the Pratt brothers. Most of them live in lowland forests and some like Ornithoptera chimaera also live in altitude.
ORNITHOPTERA LEGAL STATUS :
Ornithoptera are protected species and you need to check that your supplier provides a CITES II permit to acquire them legally. Many birdwing farms have all necessary permits to export birdwings to butterfly suppliers who will be able to deliver a proper CITES permit. Even common birdwings like Ornithoptera croesus helios or the Rajah Brooke's birdwing are CITES II species. Acquiring a birdwing taxidermy with a CITES permit will help finance its breeding and the protection of its habitat by local population who needs to make a living from the forest protection.
ORNITHOPTERA ALEXANDRAE AVAILABLE ?
The Queen Alexandra Birdwing has a very high level of protection : it is a CITES 1 species and cannot be traded. It lives near Popondetta in Papua New Guinea in an area threatened by palm oil deforestation. You can admire them there in the Birdwing Butterfly Lodge in Popondetta. From time to time, some pre-CITES Ornithoptera alexandrae are available with full permits in some professional entomological houses like Rieunier.
WHAT IS THE VALUE OF A BIRDWING ?
The value of Ornithoptera does vary : some common species like Ornithoptera priamus, also called the common green birdwing butterfly, are easy to find, but some rare Ornithoptera hybrids like Ornithoptera akakeae or Ornithoptera allotei are very hard to find. The presence of gold spots on Ornithoptera wings will also increase their value, same for some rare forms like Ornithoptera victoriae form niclasi. Some very nice species like Ornithoptera meridionalis are not easy to find on the market.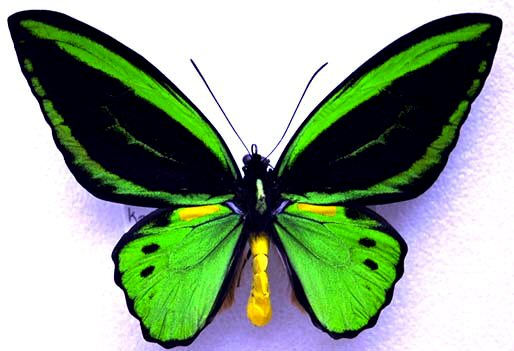 Butterflies for collectors:

Moths :

Coleoptera :

Other insects :