Cypraea - Cowries for collectors
New Cowrie shells listed everyday, add this page to your favorites if you like Cypraea.
CYPRAEA AVAILABLE FOR COLLECTORS:

CYPRAEA AVAILABLE FROM GERMANY:

COWRIES AVAILABLE FROM FRANCE:

A selection of rare cowries for shell collectors
Cypraea seashells are very popular among shell collectors. "Cowries" as we name them in English or "Cypree" in "French, have always fascinated men and women with their beauty, variety and scarcity of some species. Cypraea and Zoila are by far the most sought-after seashells and they have been very well studied by malacologists. On this page, you will find our selection of rare Cypraea and interesting Zoila for collectors. We source them from reliable Cypraea dealers and reputable collectors.
Cypraea fultoni : one of the most sought-after Cowrie shells
There are 4 subspecies of Cypraea fultoni:
- fultoni massieri
- fultoni amorimi
- fultoni mozambicana (much more subjective the latter)
- fultoni fultoni
Cypraea fultoni massieri is the most common subspecies, it's the one you'll find relatively easily, although if you're demanding on quality, it might take longer. It is characterized by its "pear" shape and its base which has very few or no points. The dots on the margins are quite large and far apart.
Cypraea fultoni amorimi is much rarer though! It differs from the other shapes in particular by the deltoidal shape and its margins which look flared. The dots on the margins are normally smaller and more grouped. Nevertheless, according to some people, amorimi is an extremely mature form of massieri which has developed a very important callus. However, this form is still very rare. We've heard about triangular shape for the most spectacular specimens with very-much developed margins.
Cypraea fultoni mozambicana is not recognized as a subspecies in its own right. It is small in size (<65 mm), has a base almost completely covered with dots. On the other hand its general shape is similar to massieri. This subspecies, if one can speak of subspecies, is rarer than massieri but less rare than amorimi. For some malacologists, the name mozambicana simply corresponds to a dwarf massieri.
And finally, Cypraea fultoni fultoni, the nominate subspecies, is also called miniatra. It is extremely rare. And unlike the others which have their habitat in the Mozambique Channel, the fultoni is present in deep water in South Africa. The real fultoni is easily identifiable, it is very flat and elongated compared to the others. It is also darker and smaller (55-60 mm), the base is very colourful and covered with large dots.
We can say that their worth is going up. Lately the beautiful pieces (i.e. with a nice design and perfectly GEM (which is very rare for fultoni)) have seen their worth skyrocket because it is clear that on the current market, it is no longer common.
What is the value of a Cypraea seashell ?
You will easily find a common Cypraea tigris for few dollars online. But some very rare Cypraea can reach a very high value on the market because they live in very remote areas where there are very few local collectors (Papua, Solomon islands...). In seashell auctions, some rare GEM-quality Cypraea can reach several thousands of dollars. To give you some examples, a 81.5mm Cypraea Zoila jeaniana thalamega from Australia would be found around $2,200. And a Cypraea langfordi 61.4mm GEM from the Andaman Sea around $1,995. You will find unique Cypraea at high value at the top of our selection. To find some more common Cypraea, click on the "Next Page" button.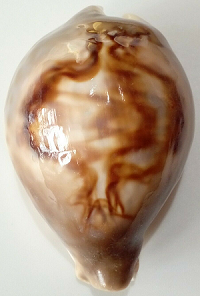 This beautiful CYPRAEA FULTONI, 74,5 mm, from Mozambique was available at $1990.
How to find a cowrie shell here ?
You have found the Cypraea fultoni of your dreams ? Just click on the Cypraea picture of the specimen you like and we will automatically redirect you towards a secured merchant site where you can get it. Our selection is daily updated so add it to your favorites if you are a Cypraea collectors. Feel free to send us an email if you have any questions about a Cypraea specimen or a shell supplier, we will be happy to help if we can.

Shells for collectors :

Recommended suppliers :