Turquoise stones for collectors
New turquoise gemstones listed everyday, add this page to your favorites.
RARE TURQUOISE GEMSTONES FOR COLLECTORS:

A selection of turquoise stones for rock collectors.
Our team daily selects the most interesting turquoise mineral specimens available online. Turquoises have always fascinated humans by the beauty of their colours. Its name comes from "Turkey", as the first turquoise gemstones came in Europe from that country ("turquoise" means "Turkish" in ancient French). Turquoises have always been very popular among mineral and rock collectors and the rarest turquoises can reach a very high value. This splendid rock is also used to make turquoise jewelry or turquoise rings.
What is the value of a turquoise gemstone ?
There is no simple answer to that question. Some rare turquoises can be very hard to find. Let's give you some examples : a 402-gram unstabilized Kingman Turquoise from Arizona was offered at $2,750. And a natural deep-blue spiderweb persian turquoise pyrite rough 1218 gram was at $1,250. A unique 5.9" turquoise carved crystal skull were found at $25,000. But you can also find some more common turquoise stones, just look at the bottom of our selection and click on the "Next page" button to see some low-price items.
How to get a turquoise rock from here ?
It is very simple : just click on the turquoise mineral you like and we will automatically redirect you towards the website where you can get it. Have also a look to our top mineral auctions to find some rare minerals for your collection. We update our selection every day !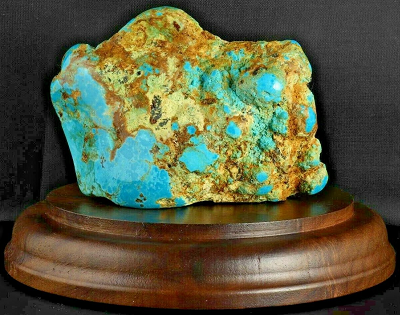 This rare Evans Turquoise of 944 carats was for sale at $1180 on eBay
What is the difference between turquoises and aquamarines ?
Aquamarines are often listed as "turquoises" online. Even if they have a close colour, they are not the same mineral. Turquoise is a phosphate of copper and aluminium while aquamarine is a silicate. Aquamarines are clear (it is a crystal), while turquoise is an opaque rock. Aquamarine is also harder than turquoise. Both are very interesting to collect.
Minerals for collectors :