Rhodochrosite for collectors
New Rhodochrosites listed everyday, add this page to your favorites.
RARE RHODOCHROSITE CRYSTALS FOR COLLECTORS:

What is rhodochrosite ?
Rhodochrosite is a very popular mineral among collectors. This manganese carbonate mineral is sought-after for its beauty, its rarity and its famous rose-red color. They were first found in Romania, but some have been discovered in Argentina in the famous Capillitas mine, in South Africa in N'chwaning mine, and in Colorado too. Polished slabs of rhodochrosite stalactits and rhodochrosite crystals are hard to find.
Rhodochrosite is a manganese carbonate which is usually found in rhombohedrons but can also appear in scalenohedrons, or in concretioned form taking a beautiful polish like the rhodochrosites of the Capillita mine in Argentina. The most beautiful rhodochrosite crystals often come from polymetallic, often gold- and silver-bearing, deposits in recent mountain ranges like the American Cordilleras. They are also found in stratiform manganese deposits in Africa such as the Moanda mine in Gabon or the Hotazel mine in South Africa. The Alicante mine in Colorado also produces very nice rhodochrosites.
A selection of the best rhodochrosite minerals.
Our team selects the best rhodochrosites available online. We source them from reliable mineral suppliers and select their best rhodochrosite polished slabs, their purest rhodochrosite crystals and also some more common rhodochrosite collectables. On this page, you will find for sure the rhodochrosite of your dreams.
What is the value of a rhodochrosite ?
Value is highly dependant of the size, the purity and the weight of the rhodochrosite mineral. Some very scarce rhodochrosites can reach a very high worth in mineral auctions. To give you some precise examples, an exceptional heart-shaped Rhodochrosite from N'chwaning mine in South Africa was available at $25,000. A 11.5" Rhodochrosite Stalactite Polished Slab from the Argentinian Capillitas mine is offered at $11,000. Of course, these are extreme rarities and you can find some much more common rhodochrosites at the bottom of our selection and clicking on the "Next Page" button.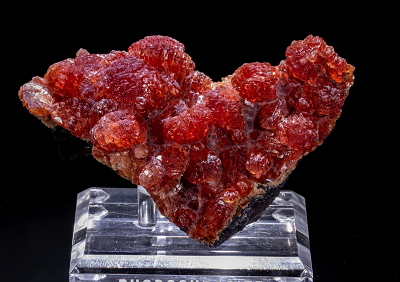 an extremely rare heart-shaped rhodochrosite
How to get a rhodochrosite from here ?
Nothing easier, just click on the rhodochrosite crystal that you like and we will automatically redirect you towards a website where you can get it. If you have any questions about a rhodochrosite item or a mineral supplier, feel free to send us an email, we will be happy to answer your questions.
Minerals for collectors :