Turtle fossils for collectors
Discover our selection of interesting fossilized turtles available online.
We daily update this selection, bookmark this page if you collect rare turtle fossils.
NICE TURTLE FOSSILS FOR COLLECTORS:

A selection of great turtle fossils for paleontologists.
Fossilized turtles make very interesting fossils thanks to their impressive size and beauty. Fossilized turtle shells are gorgeous and some museum-quality specimens are found from time to time in the USA (Illinois, Dakota), Canada and China. Some other parts of the turtle do also fossilize like turtle bones, turtle coprolites or turtle claws. A rare turtle fossil can make a masterpiece in any fossil collection.
Fossilized turtle shells
A turtle shell is among the most sought-after fossils for its beauty, elegant shape and rarity. They can reach a high value on the market : for example a Stylemys turtle shell fossil from Dakota can be found around $650 online. Some fossilized tortoise shell from the Cretaceous found in Hell Creek in Montana will be available around $150.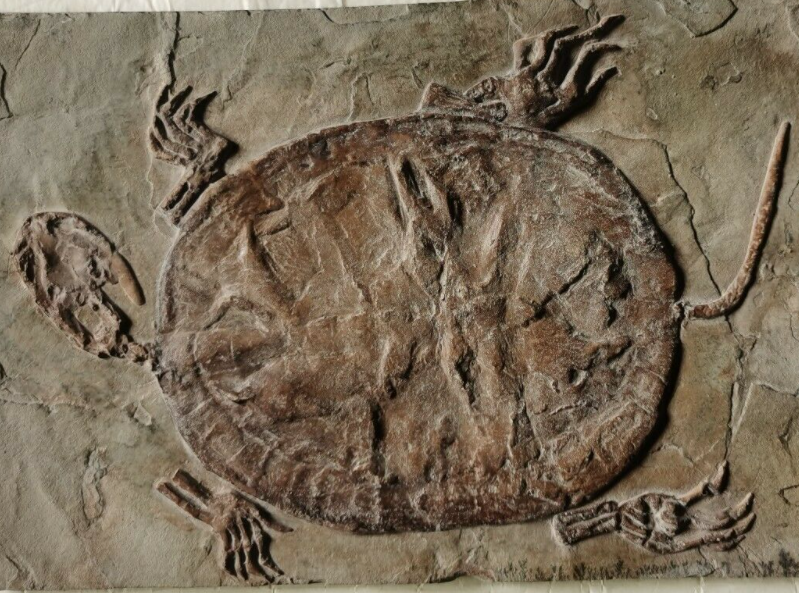 A nice Keichousaurus turtle fossil from the Triassic found in Liaoning, China
Turtle egg fossils
Turtle eggs, as for dinosaur eggs, have produced some very nice fossils over time. They are hard to find on the field and are thus rare on the market. To give you an example, you can find some Chinese turtle egg fossils around $200 online. Petrified turtle eggs make some very nice pieces too for your fossil collection.
Fossilized turtle bones
As for most prehistoric vertebrates, some turtle bone fossils have been found during paleontological field research. Some turtle tail bone fossils are often available from Morocco and you will find also on this page some turtle metatarsal toe bones discovered in Montana.
Turtle coprolites
Coprolites are fossilized poop, yes they are ! And a lot of turtle coprolites have been found in various parts of the world. Turtle coprolites are interesting small fossils and are easy to find at the end of our selection.
Who were the predators of these fossilized turtles?
Some of these fossilized turtles were the prey of the terrible megalodon. Fossils of carapace with bite marks of megalodon teeth have been found. Some turtles were able to survive after a juvenile megalodon bite but they had no chance against an adult megalodon.
What is the value of a turtle fossil ?
You can find some fossilized turtles at all pricing level. The rarest turtle fossils will be proposed here around $10,000 but in some prestigious places like Christies, Sothebys or Drouot, you can find some Museum-quality turtle fossils for more than $100,000 each. Of course we also display several common turtle fossils here that you can acquire for less than $100. As you can see, all types of fossil collectors can easily get their own turtle fossils.
How to get a turtle fossils ?
Have a look at our selection of great turtle fossils and click on the fossilized turtle you like. We will then automatically redirect you towards a secured website where you can easily get it. If you have any question about a turtle fossil supplier or about the value of a turtle fossil, feel free to send us an email. We would be happy to help you in your research of fossilized turtles for your collection.