Amethysts for collectors | Amethyst geodes
New amethyst crystals listed everyday, add this page to your favorites.
RARE AMETHYSTS FOR COLLECTORS:

A large selection of amethyst crystals for collectors
Amethyst is one of the most famous crystals on Earth. Its beautiful violet colour and deep transparency has made this variety of quartz very popular among mineral collectors. As it is not rare, collectors are focusing on very large amethyst geodes or amethyst cathedrals which are indeed very impressive. Some natural amethyst quartz obelisk can also be a must-have in a mineral collection. Amethysts are also bought by non-collectors to decorate their living room.
What is the value of an amethyst crystal or geode ?
Value depends of the size of the amethyst cluster, the beauty of the amethyst geode and of course its transparency, colour, purity and shape. Transformed amethysts like an amethyst ring or a carved amethyst can also reach a higher value. But amethyst remains a very accessible crystal ! It is a perfect gift for a child to develop his interest in geology and science. To give you some examples, a 43.23lb natural amethyst geode has been offered here below $400. And an amethyst crystal cathedral with calcite crystal of 6.9kg was found around $100.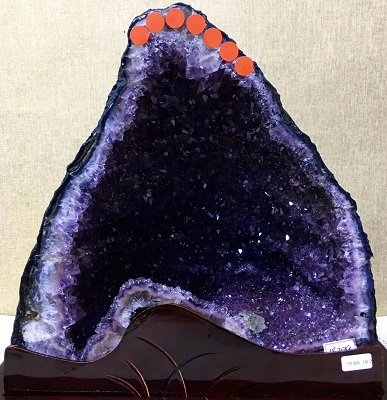 An example of a large amethyst geode.
How to get an amethyst from here ?
It is very easy, have a look to our daily selection, just click on the amethyst crystal you like and we will automatically redirect you towards the website where you can get it. If you are making a rare mineral collection, you should also pay attention to our Top 100 Mineral page where we display the most interesting minerals currently available online.
Minerals for collectors :